"Change is to implement the mission and responsibility of 'patient-first' of Aikang better " Li Wu'er, COO of Beijing Aikang Medical Group, said at the simple but grand launch ceremony of minimally invasive and interventional specialist medical group on the afternoon of August 29, 2019.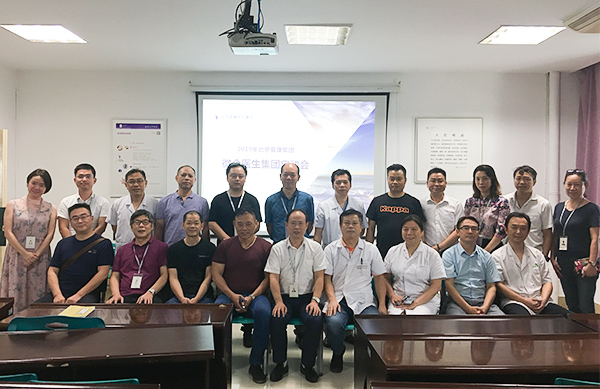 minimally invasive and interventional specialist group of Beijing Aikang Medical Group was established
To allow the Group to give a further play of the advantage of centralized and coordinated resources, improve the effectiveness of medical human recourses of the Group to the greatest extent, provide more patients with quality medical services, and improve the overall businesses and efficiency of the Group, the Group decides to establish "Minimally Invasive and Interventional Specialist" (hereinafter referred to as "Minimally Interventional" specialist) Group of Beijing Aikang Group after research. So far, the third specialist group joined the doctor group allies of the Group. The establishment and promotion of the doctor group intensively stimulate the specialist talent resource sharing, subject integration and collaborative development of more than 20 medical agencies under the Group.
At present, urologist group is under commissioning condition, which primarily realizes uniform management of urinary surgery of four hospitals. Core export resources are shared, the levels of urinary surgery of hospitals reach a uniform level, and numbers of surgeries at level III and IV are improved significantly.
Li Wu'er, COO of the Group said that, the organization and establishment of doctor group are just at the right time. Upon accumulation for more than 20 years, Beijing Aikang Medical Group has nearly 30 medical agencies, and the organization and establishment of doctor group have very important practical significance for and positive impact on the overall integration of talent resource sharing in the Group and deep integration in the special fields in the Group. Three doctor groups will be promoted and extended in many other disciplines in the Group as an example, to realize the intensive, platform-based and integrated group management and discipline development, and benefit more patients.